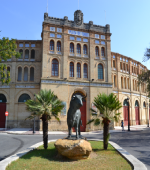 Differences between ANOET and the El Puerto City Council.
The Association of Bullfighting Organizers (ANOET) has written to the mayor of Puerto Santa María expressing its serious concern about the delay in the publication of the specifications, which is seriously jeopardizing the celebration of the bullfighting festivities. The Spring and Wine Fair in May could mean this business as in previous years. There simply isn't enough time to offer the artistic quality that this city deserves.

On the other hand, the lack of planning by the city council affects not only the bullfighting business, but directly and seriously affects the entire tourism sector of this city. He strongly objected to the relative insult found with other cultural events, as the concert season was actually planned and scheduled for this time, unlike the bullring.