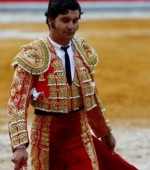 TOMAS RUFO REPLACES MORANTE IN SALAMANCA.
The promoter of the Salamanca bullring has issued a statement informing that tomorrow, September 16, Morante de la Puebla will be absent, due to the inconvenience he has been experiencing in his last appearances, and in his place he will be replaced by TOMAS RUFO. .

On the other hand, people who want a refund for their tickets, due to the substitution, must send their tickets in PDF to the email info@taquillaoficial.com before 5:00 p.m.