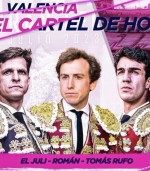 CHANGE OF POSTER IN VALENCIA.
The promoter of the Valencia bullring (NAUTALIA VIAJES) has modified the bullfighting poster for the festival that will take place today, July 21. After the inconvenience that both Morante de la Puebla and José María Manzanares have been dragging both swords have decided not to keep their appointment in Valencia.

The poster is as follows: EL JULI, ROMAN, TOMAS RUFO.

People who wish to request a refund of their tickets must send an email to info@taquillaofcial.com the tickets before 6:00 p.m. today.