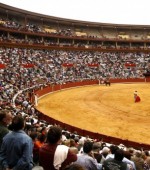 POSTPONED TO TOMORROW SUNDAY, MAY 21, THIS AFTERNOON'S RUN WITH MORANTE, JUAN ORTEGA AND ROCA REY
The bullfight scheduled for this afternoon in the arena of Los Califas with a poster made up of Morante de la Puebla, Juan Ortega and Roca Reya has been postponed due to the rain. This celebration will be held with the same poster tomorrow, Sunday, May 21, at 12:00 p.m.

Fans who have purchased a ticket will be able to access their location tomorrow with the same ticket.

On the other hand, those who wish to refund the amount of the tickets must communicate it via email to said entity, attaching their tickets before 11:00 AM tomorrow, the 21st.